"Sunflowers & Graffiti'd Sky in the Garden State" at MAM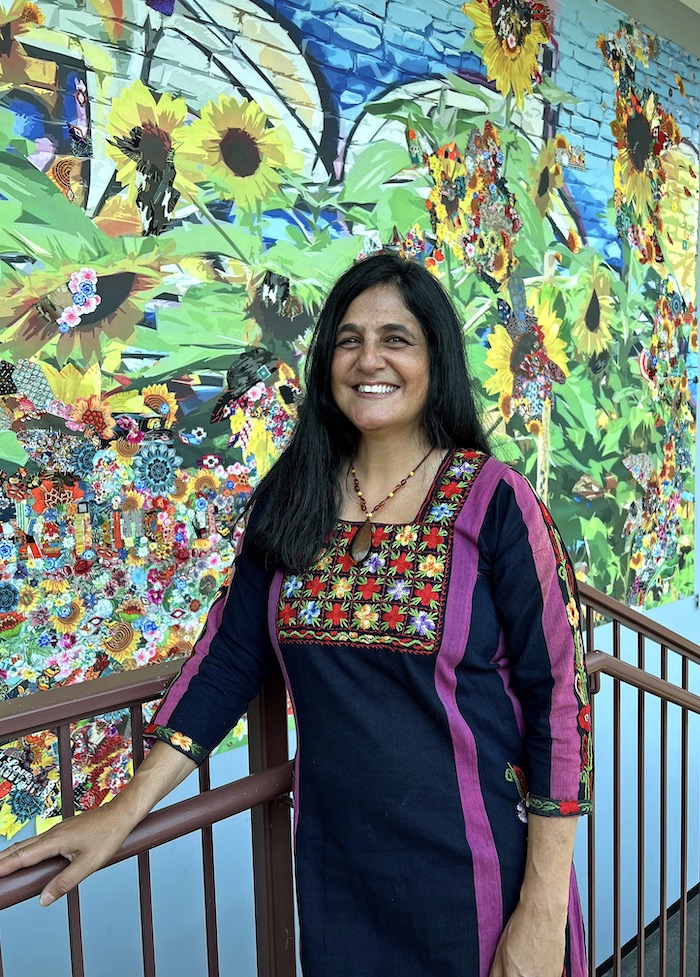 For in excess of two many years, Jersey Town-centered WOOLPUNK®  has been fashioning artwork that is at as soon as visually charming and socially stirring. Working largely with recycled textiles, discovered objects, photos, and text-primarily based imagery, she addresses this kind of concerns as environment endangerment, financial inequality and homelessness. Inside the earlier yr, her abundant and ingenious creations have produced their way into a varied vary of websites such as the World Trade Heart, Bergdorf Goodman, and FIT's Artwork and Design and style Gallery.
Now on check out at the Montclair Art Museum is WOOLPUNK®'s vastly amazing Sunflowers & Graffiti'd Sky in the Garden Condition. Based on a photograph of a local community yard in Jersey Town, the remaining creation, 30 ft large x 13 feet long, features recycled textiles on an embroidered image. All of the products utilised — garments, material scraps and assorted textiles — were being donated in response to the artist's open up phone to the MAM local community. And anything at all that was not applied was then donated to the Salvation Army.
Sunflowers & Graffiti'd Sky in the Garden Condition brilliantly provides focus to landfill squander that is comprised mainly of clothing although questioning our penchant for the latest vogue tendencies. Highlighted earlier mentioned is the artist in entrance of her work. Numerous near-ups from Sunflowers & Graffiti'd Sky stick to:
A compact phase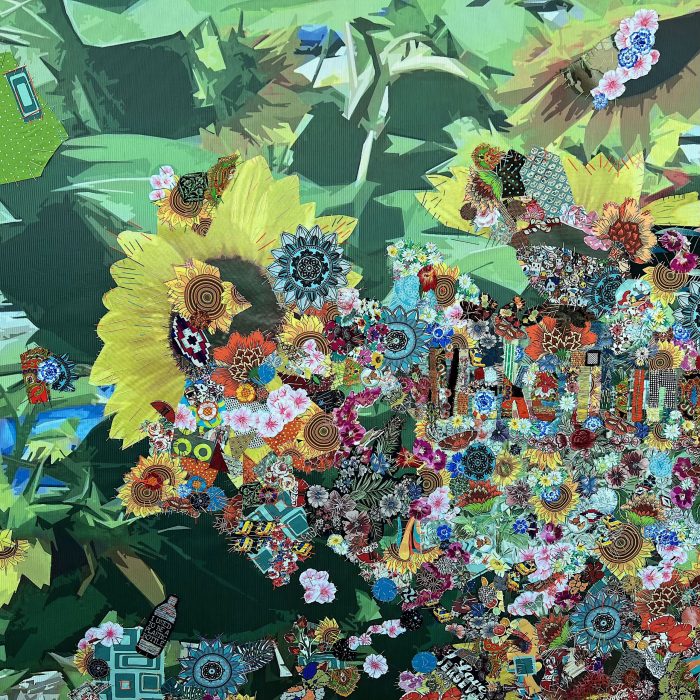 The graffiti'd sky — which while lovely, also "reminds us of the air-polluted sunsets"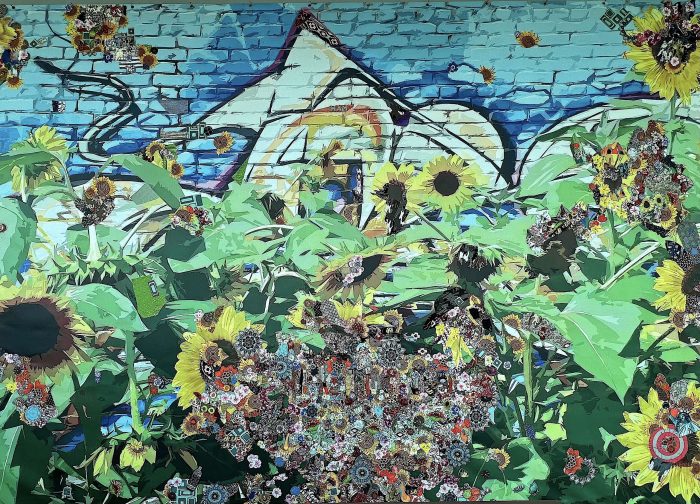 A lot more sunflowers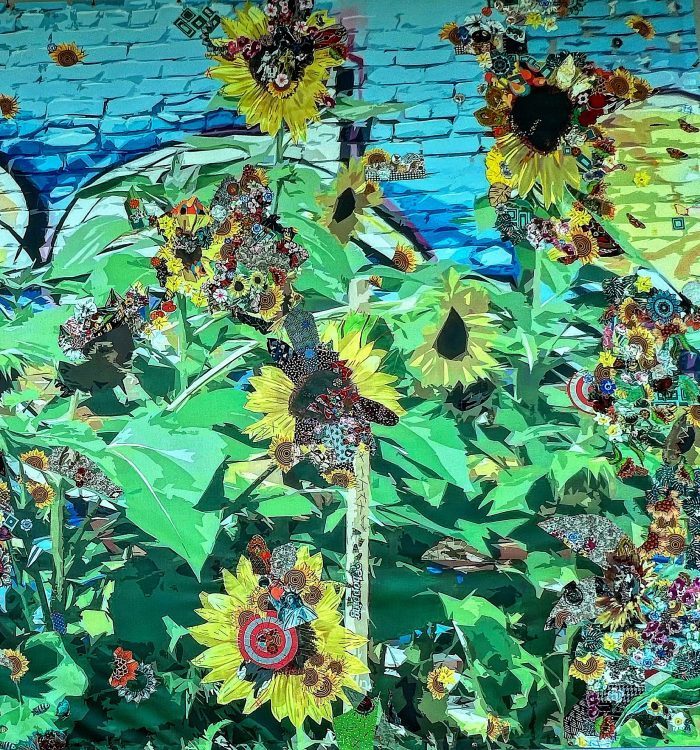 A closer seem at the aspects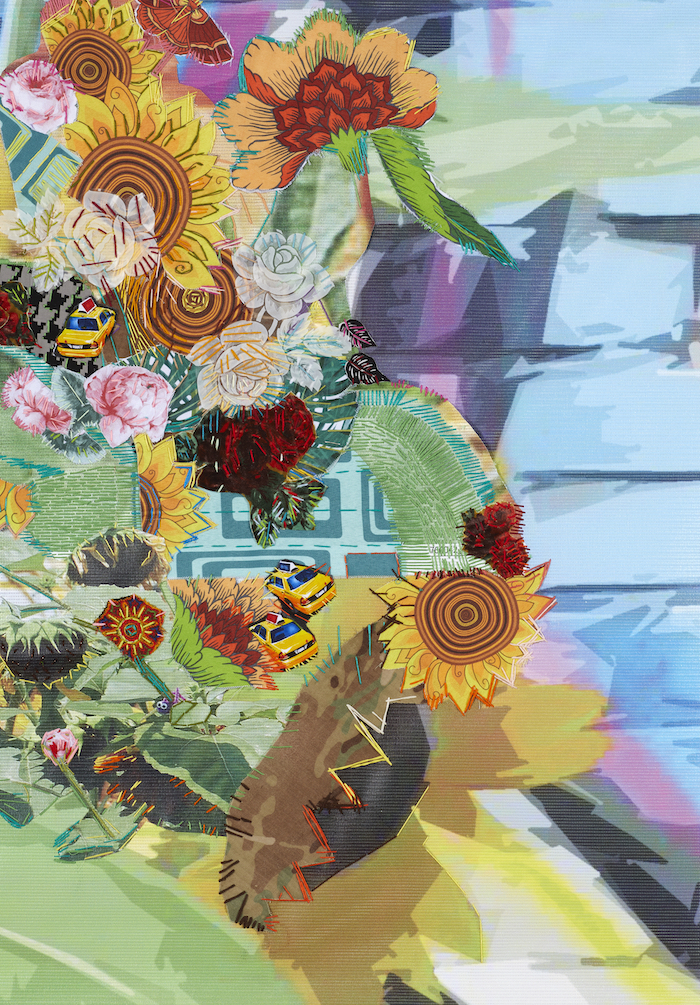 Sunflowers & Graffiti'd Sky in the Yard Condition remains on perspective by August 6, 2023. Found at 3 S Mountain Ave in Montclair, NJ, the Montclair Art Museum is open up Friday and Saturday, 10 a.m. to 6 p.m. and Sunday, 11 a.m. to 5 p.m.
Shots 1-4, Lois Stavsky 5, Courtesy of the artist